A little about Libby:
I'm a coconut.
Translation: Brown on the outside, white on the inside
If you know me you're well aware. Some people may take that phrase offensive and to each their own. But it's actually me through and through. It's really ironic because I was born in Quito, Ecuador! I was learning to speak both Spanish and English and right before my 3rd birthday (I believe), we moved. We moved to Nairobi, Kenya (more on the moves to come, I promise). For some reason the parentals stopped speaking Spanish and I lost all of the Spanish I had learned up to that point. Now my parents say that I still have it in there somewhere...so this is my journey to find it. I can't think of a better way to "find" it than to learn with my girls :). I've learned to live with my
coco-nutty-ness
, but that's all going to change.
So, for this Tuesday's Treat I am going to share with you a super simple salsa recipe I got from my wonderful Mother-in-Law and wonderful Tia (in-law as well) :). In Spanish! Learn with me...come on, it will be fun! And if you already know Spanish, feel free to correct my google-translate below hahaha.
Tomato Salsa!
Salsa de Tomate

boil until the skin separates, like shown above.

You may began to cough at this point if you're jalapeno is a good one.
Don't worry, it's not as strong as it smell (not promising though).
Anyone know of a blender giveaway going on? I hate mine.

I served mine on top of some yummy chicken tostadas, MMM.
p.s. that's Mexican Crema, not a deviled egg haha
P.p.s Mexican Crema is AMAZING.

Have anything you want to link up and share?
It can be a favorite blog post, craft, giveaway, anything goes...surprise us! If you do, please add my 'Tuesday Treat' button to the post you are sharing. And don't forget to leave comments on other posts that are shared, I mean who doesn't love comments?! Happy Tuesday!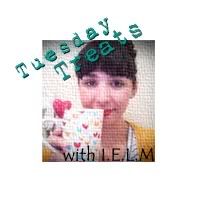 Also Linking here: