YES! Why not?!
Ok, I'll tone it down a bit. I'm kind of a Christmas nut. But serious, think about it. Halloween will soon come and go, Thanksgiving is right behind it and then you're hit with that panic to finish your holiday shopping list in a rush. Or is that just me?
Well this year I decided to start early (
I may or may not "decide" this every year...this time I'm serious lol
). I'm scouting out gifts now and trying to be ahead of the game, not only to beat the rush but to also stretch the gifting budget a bit more.
This brings me to the ornament swap. Did you notice the ornament swap button on my sidebar? I was soo excited when I saw a post by Erin at
Living in Yellow
about the ornament swap she's doing with Jessah at
Dreaming of Dimples.
I love swaps, you get to meet new bloggers (just met Jessah and already hooked :), you receive a surprise in the mail and you get to surprise someone else...does it get any better?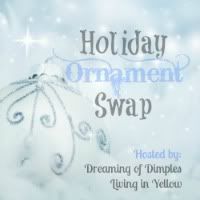 Read below and you will see why you need to register this early...let's plan ahead people!
Via

Living in Yellow

and

Dreaming of Dimples

:
Link up your blog below to let us know you want to participate in the swap. Sign ups close at Midnight on October 31st.
Everyone loves getting special deliveries in the mail. Especially when it's a super festive item like an ornament for your holiday tree. So let all of your blog friends know about the swap. The more, the merrier.
On Thursday, November 1st, we will post the swap matches. You will contact the blogger you're buying for via their blog, email, twitter, facebook, etc. to get their address.
On or before November 12th, purchase and mail your ornament. This means your ornament should be en route to its recipient NO LATER THAN the 12th.
Step 5. Receive & Blog about your ornament!
This is the fun part! Blog, Instagram, Tweet your Ornament Swapping Adventure. Be sure and use #ornamentswap on Instagram & Twitter so other Swappers can find you!
We will be hosting a Linky Party on December 1st for those of you bloggers that want to link up your posts! (This gives you plenty of time to make sure your ornament arrives & recap your adventures.)
That is it.
It's pretty simple.
Sign up & send.
Now, I know people may have a few more questions about the details, so here are some additional things you should know.
1. You should spend between $4-$14 on your ornament.
2. Ornaments should be new, as no one wants any "gently used" tree decorations.
3. The ornament you purchase should be something fun, quirky, or beautiful that you'd like to receive and that you will be proud of when it is associated with you and your blog.
4. You can purchase ornaments from anywhere. Like these handmades from
Etsy
or unique ornaments from
Pier One
or
Target
.
5. You will not be sending and receiving to the same person. Technically you aren't "swapping", more like a daisy chain of ornaments will be flying through the skies via the postal service. You will send to one person and receive from someone else. This way you get to know at least two people!
6. Be sure to package your ornament in bubble wrap to ensure it arrives safely. Getting a broken ornament is no fun at all.
7. Please do not sign up unless you are 100% sure you can fulfill the swap requirements, we would hate for someone to sign up and not participate.

Giveaway: I almost forgot! If you post the ornament swap button on the sidebar of your blog (visit Jessah's blog for the code), you'll be entered to win this cute, zebra ornament from Pier One.
Now go join!
-LL