Betsy McCall Magnetic Paper Dolls!
I saw this on pinterest and I was soooooo excited when I found out that Rita made these for Vayda for Christmas....Thank you Auntie Ritz, from both of us haha.
I have to say we have thee cutest refrigerator on the block! Not to mention, these actually keep Vayda busy for some time, she loves them!

"heehee she lost she's clothes" Vayda Marie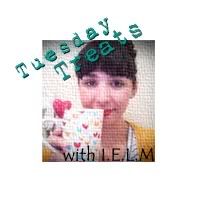 Have anything you want to link up and share on this lovely Tuesday? It can be a favorite blog post, craft, anything...suprise us! If you do, please add my 'Tuesday Treat' button to the post you are sharing. And don't forget to leave comments on other posts that are shared, I mean who doesn't love comments?! Happy Tuesday!