Well I hope everyone had a very Merry Christmas!!! We had a great one! We spent Christmas Eve at my parents in LA. We mad tamales and watched the (awful) Charger game. Then we ate a great meal together, opened presents, read the birth of 6lb 8oz baby Jesus (lol) and sang a few carols. We drove back that evening and I wrapped the night away...with a nice little glass 'o wine.
Vayda woke up at about 7am and discovered Santa brought her a big girl bike!! We had so much fun unwrapping our presents and stockings. And did I mention my husband is thee greatest?! He got me a Canon Rebel!! Did you hear? A CANON REBEL!!! Ahhhh I am SO excited to learn this little bad boy!
So after snapping a few candid shots (photos coming soon), I got to making coffee and getting the kitchen ready for a morning of cooking breakfast with my awesome Mother-in-law. We made her famous Christmas breakfast...and quite frankly, it's the only thing the hubbs truly looks forward to Christmas day (so I better get it down pat haha). It's kind of a breakfast casserole. Cooked potatoes with a few onions for taste, bacon pieces and lots of Monterrey Jack cheese. After each item is cooked in a skillet to get crispy (except the cheese) you throw it all in a casserole dish, add the cheese and bake for about 10-15mins. While that was going we made eggs to order and chopped up tamales and fried them....OH-SO-GOOD! Pair that with some fresh oj and you're set!
Ready for the Tuesday Treat?! Jalapeno poppers! These little guys were a hit and so easy!! Found on
pinterest
(duhh lol) I had to try these out.
All you need is a tube of cressent rolls, a block of cream cheese and jalapenos. On the recipe that I found she added a Tbl spoon of sugar but I liked them better w/o the sugar. To each their own though.
Toss the cream cheese in a bowl and microwave it on high for about 30 secs. Just to get it soft. Dice as many jalapenos as you like. We like things spicy in the Arreguin household lol so I did about 1 cup of diced jalapenos. Throw those little suckers in the cream cheese and mix it all together.
Open the cresent roll can and pinch together two triangles. In the end you should have 4 rectangle and no perforated edges. With the back of your spoon, spread the cream cheese mix onto the center of your rectangles. roll these bad boys up with the long side. You should have 4 long logs now. Cut each log in half (use a super sharp knife), then that log in half etc. You should have 32 small "stumps" or rolls. I used parchment paper or you can place them straight on the baking sheet, but make sure you use cooking spray, they will stick.
Place them with the cream cheese side facing up and bake in a 375 degree oven for about 10 mins. These will go fast!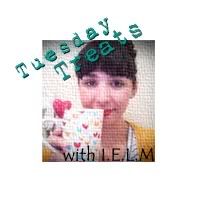 Have anything you want to link up and share on this lovely Tuesday? It can be a favorite blog post, craft, anything...suprise us! If you do, please add my *new* Tuesday Treat button to the post you are sharing. And don't forget to leave comments on other posts that are shared, I mean who doesn't love comments?! Thanks a million!